Northport NY – M.C. Records is proud to announce the signing of Sacred Steel sensation, The Lee Boys. The band's first recording for the label, Live On The East Coastwill be released on April 19 worldwide. This marks the bands first release since 2012's Testify. This album presents live performances recorded at three 2018 concerts:  Rives Theater, Martinsville Virginia, Suwannee Roots Festival in Live Oak Florida and Allan Laws "Thanksgathering" in Winston Salem North Carolina. Throughout Live On The East Coastyou'll hear the band's unique gumbo of soul, funk, blues and R&B.  Several songs have never appeared on any previous Lee Boys' release. 
The Lee Boys at The Suwanee Roots Festival

The Lee Boys at The Suwanee Roots Festival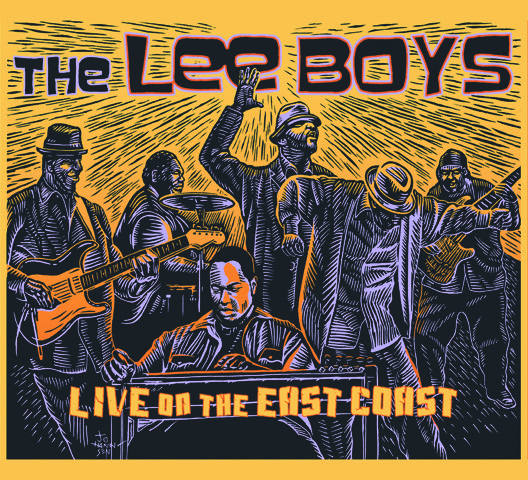 The Lee Boys have been bringing their joyful noise around world for over 10 years. The band has performed in Canada, Switzerland, France, and Thailand. In the U.S., The Lee Boys have played some of the most important Festivals in the U.S. including The New Orleans Jazz and Heritage Festival twice, most recently this year. They have also performed at Memphis in May, Bonnaroo, Austin City Limits, Telluride Blues and Brews, The Philadelphia Folk Festival and Merle Fest. The Lee Boys have performed on the syndicated radio programs, E-Town and Mountain Stage and the always fun, Jam in the Van.
"Audience members danced in the aisles, jumped up and down and waved their arms to the mounting melody."
USA-Today

"The band's dexterity with multiple genres is its strongest point; it combines folk, soul, funk, blues, country and gospel into upbeat, steel guitar-led performances that can't help but inspire secular and sacred revelry." Billboard
Today, the Lee Boys band is Alvin Lee; guitar, backup vocal and band leader; Keith Lee, lead vocal; Derrick Lee, lead vocal; their nephew Alvin "Little Al" Cordy, Jr., six-string bass, lead and backup vocal; nephew Earl "Big Easy" Walker, drums; and Chris Johnson, pedal-steel guitar.  Born into a family of Pentecostal church musicians and thoroughly familiar with House of God music, Alvin is dedicated to continuing the Lee Boys reputation of playing eclectic, soulful music that incorporates elements of rock, country, R&B, jazz, hip-hop, funk and more—always with that unmistakable Lee Boys sound.  http://www.leeboys.com/biography/http://www.leeboys.com/biography/