The M.C. Records Story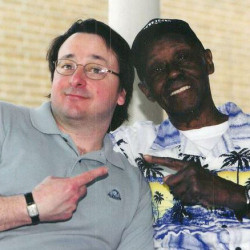 In 1991, Mark Carpentieri wanted to record his band Somethin' Blue but like many musicians, he didn't have the money. He ended up making a deal with the studio owner. He would dump a van full of construction garbage for a night's worth of recording. Through simple barter, M.C. Records was formed. In 1996, Mark signed Mississippi bluesman Big Jack Johnson and released his music throughout the world. Since then, the industry has taken notice. The label has been nominated for eight Grammy Awards and won or been nominated for over 30 Blues Music Awards. In 2006, M.C. Records received The Blues Foundation's Keeping The Blues Alive Award.
---
Check out a feature article on M.C. Records in Celebrity Access HERE ->>
---
On May 6, 2011, M.C. Records President Mark Carpentieri was interviewed on WFUV by Dennis Elsas. The station was celebrating blues day. Check out the interview below.