Northport NY – On June 23, M.C. Records will release Six Strings of Steel by guitar master Duke Robillard. The record represents all his influences including swing, blues, and rock. You'll hear Link Wray's "Rumble", Dylan's "Watching The River Flow", a ska version of Fats Domino's "I'm Going To Be A Wheel Someday," and of course several Duke knockout originals!
You can pre-order an autographed copy or via your favorite streaming service here, https://shop.mc-records.com/products/duke-robillard—six-strings-of-steel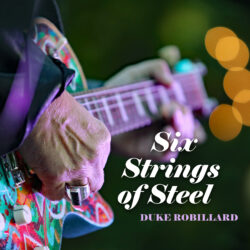 Duke Robillard about Six Strings of Steel:
I am really excited about the release of "Six Strings of Steel" on M.C. Records. It's a look back at many guitar and song styles that have been important to me along my journey in this world of ever-changing tastes and sounds. At the same time, all the genres rooted in the blues still captivate my imagination on a daily basis.
Duke is joined by his long-time band mates Mark Teixeira, Bruce Bears, Marty Ballou, and Doug James that helped him create an infectious sound and groove here, and the most recent band member, vocalist Chris Cote belts out the tunes, no matter what the genre, with style and power. A special guest on the record is Katie Shore of Asleep at The Wheel on fiddle.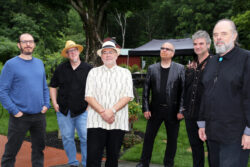 Duke has carved out one of the blues' most illustrious legacies. After showing an early affinity for music and guitar, he founded Roomful Of Blues with pianist Al Copley in Westerly, R.I., in 1967. Duke has been making solo albums since 1984 and replaced Jimmie Vaughan in The Fabulous Thunderbirds in 1990. He recorded on Dylan's "Time Out Of Mind" and later toured with him. He also has toured with Tom Waits and Robert Gordon. Duke's prolificity has included producing albums by Billy Boy Arnold, Joe Louis Walker, Rosco Gordon, Jimmy Witherspoon and Jay McShann, and Otis Clay. Another highlight of Duke's is recording two collaborations with Herb Ellis.
Duke's resume is decorated with Grammy nominations, Handy Awards, Blues Music Awards, and other honors for his artistry, recordings, and productions within the United States and internationally.
"Robillard is a soloist of stunning force and originality." The New York Times
"Most everything Duke Robillard has done as a guitarist during the past four-plus decades…bears witness to his musical intelligence and his dedication to his craft." Downbeat
Robillard's ability to play across the spectrum of blues is legendary. Few players can move stylistically from Texas to Kansas City to Chicago's West Side, but Robillard makes it seem easy." Guitar Player