January 13, 2021 – Northport NY – It's an auspicious start to 2021 for Kim Wilson. This week, his recently released Take Me Back is the number 1 Classic Blues Album according to Roots Music Report! It's also the number 2 Blues Album. This week, Take Me Back has received the most spins from more radio stations than any other previous week. Click the photo to see the complete chart of classic blues albums.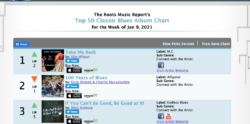 Take Me Back is deep, authentic, and filled with the gut-wrenching blues sounds Kim has made famous for over 40 years. Recorded live in the studio, and in mono, Kim delivers the blues as his heroes did in the golden age of the genre in the 1950s. Kim and his all-star band muscle through 16 tracks with some new Wilson songs and a mix of some great blues and R&B nuggets by the likes of Jimmy Rogers, Jimmy Nolan, Larry Williams, and more.
Click Here For Purchase Options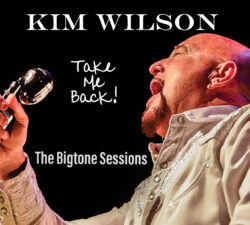 Check Out Some Right On Reviews!
Morning Star (U.K.): A power-house blues set!
No Depression: Wilson creates a vintage vibe that never sounds dated, blowing fresh air into obscure classics as well as presenting some of his own that fit in so well you'd never know they weren't old-school gems.
Tahoe Onstage: All told, 16 extraordinary blues musicians join Wilson in various configurations, recreating with aplomb the sounds of yesteryear.
Glide Magazine: These musicians are so natural and effortless that it's easy to see why no overdubs were required. Like Wilson, they live and breathe the real deal blues.
The Alternate Root: Take Me Back bleeds Blues authenticity.
Rock and Blues Muse: Take Me Back is unmistakably classic blues, throughout it all, Wilson's voice is the beacon which leads the assembled players home.
Toledo Blade: The result is just a little more of an authentic, throwback texture. I mean, who does that in 2020, unless you're pretty darned good and can pull it off, which Wilson is and he does.
Back in November, Kim Wilson took his band The Rhythm Scratchers into the studio and presented a two-hour concert. Click the photo to enjoy the show!