M.C. Records To Release Guy Davis' Video
"God's Gonna Make Things Over" On May 14
Which Revisits The 1921 Tulsa Race Massacre
New Album Coming June 4th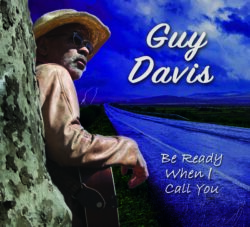 May 13, 2021, Northport NY – M.C. Records is proud to announce the release of Be Ready When I Call You by The Ambassador of the Blues, Guy Davis, on June 4th. The first single/video from the record will be "God's Gonna' Make Things Over" which revisits a shameful corner in American history, the Tulsa Race Massacre of 1921 which took place from May 31-June 1. The video/single will be released on May 14.
He surely kicks ass on this one! – Living Blues
During the Tulsa Race Massacre which from May 31 to June 1, 1921, a white mob attacked residents, homes and businesses in the predominantly Black Greenwood neighborhood of Tulsa, Oklahoma. The event remains one of the worst incidents of racial violence in U.S. history, and, for a period, remained one of the least-known: News reports were largely squelched, despite the fact that hundreds of people were killed and thousands left homeless (History.com).
The Black folks just got took. They had a beautiful area called Greenwood, the "Black Wall Street", and the White folks burned it to the ground. I wanted it to be a song that calls out for humanity — not for whiteness or anti-whiteness, but humanity. – Guy Davis
Growing up in a family of artists (his parents were Ruby Dee and Ossie Davis), he fell under the spell of Blind Willie McTell and Fats Waller at an early age. Guy's one-man play, The Adventures of Fishy Waters: In Bed With the Blues, premiered Off-Broadway in the '90s and has since been released as a double CD. He went on to star Off-­‐Broadway as the legendary Robert Johnson in Robert Johnson: Trick The Devil, winning the Blues Foundation's "Keeping the Blues Alive" award. For a complete bio of Guy Davis click here, http://guydavis.com/wp/bio/